Weekday Club Youth Support Program
Elementary Youth Support Programs: The Weekday Clubs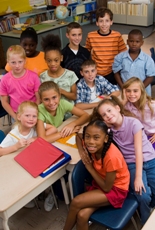 The Weekday Clubs are CHC's way of delivering Elementary Youth Support Programs to young students who need extra support and life skills training to succeed in school and in life. The Weekday Clubs are small groups, usually 8-10 students, who meet weekly with a CHC facilitator and a school counselor. The clubs provide a safe, confidential environment in which children are guided to become aware of their feelings, attitudes and behaviors and to understand how they affect relationships in the classroom. Students learn essential life skills, such as anger management, effective communication, and goal setting. The setting also allows them to support each other through interaction in a variety of activities, such as role-plays, art, games, and discussions.
We believe that talking with others about troubling experiences often helps children to understand themselves better and and discover healthy ways to cope with their stress. With increased awareness and skill building, a student can make changes in his or her behavior and apply the changes in their daily lives.
Weekday Club programs are age-appropriate, and are tailored to the needs of each school, and each club. The most commonly presented programs are listed below, but others are available. If you do not see a program that addresses your need, please contact CHC.
Alcohol, Tobacco & Other Drugs Prevention Series

Coping with Loss / Grief / Bereavement

Decision Making & Consequences

Stress Management Techniques
Crossroads
Crossroads is CHC's long-standing mentoring program for students at risk of school failure and/or negative behaviors. First implemented in 1995, Crossroads (and its secondary school counterpart, Project SUCCESS) places a highly-trained and qualified advisor in a school on a regular schedule, which can range from one to five days per week. The advisor works one-on-one with students who need special attention, as well as acting as the facilitator of small groups of students who meet regularly to develop skills, such as those outlined in the Focus Group description above, and offer each other peer support and learning.
The core value of Crossroads, which sets it apart from CHC's other elementary school small group programs, is that the advisor is committed to a school for the full school year, and is on-site the same day or days each week. This allows the advisor to develop relationships with both students and school guidance staff and faculty. In many cases, the advisor is one of the few trusted, competent adults that the student has in his or her life.
For more information about the program, please contact the Center at 610-443-1595.