Tobacco Programs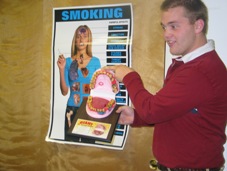 CHC's tobacco prevention programs teach young people, from preschoolers to teenagers, the why and the how of rejecting tobacco in every form.
Each program is age-appropriate, and can be presented in a classroom, as an after-school program, or to any group of youth such as a Scout troop or church youth club.
All our programs, whether created by CHC or by other agencies and professionals,are based on the guidelines from the Centers for Disease Control and present information supported by current research. Several of the programs go beyond the focus on individual health to explore tobacco's impact on our society and environment as well.
Tobacco Prevention Education: Two Session Series
This series can stand alone or be added onto any of the programs CHC is currently offering and includes the following topics:
Education

Facts about tobacco, personal values, health

Skill Building
Tobacco Prevention Education: Six Session Series
This series includes the following topics:
Education

Tobacco facts, rules and regulations, history and personal values

Health

Tobacco's harmful consequences to your health and respecting yourself

Advertising

The influence media has and how to resist it's negative messages through self discipline

Social Skills

Refusal skills and how to manage peer pressure

Making Choices

Personal and community choices, their outcomes and alternative choices and actions

Environmental Issues

TSP (Tobacco Smoke Pollution) and community involvement
Tobacco Prevention Programs Include
* Also available as an after-school program