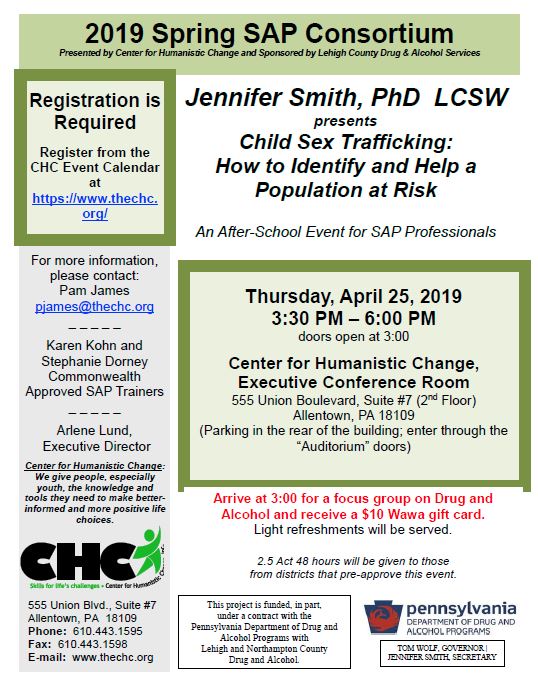 Child Sex Trafficking: How to Identify and Help a Population at Risk- an event for SAP professionals
When: Thursday April 25, 2019
Where: 555 Union Boulevard, Suite #7 (2nd Floor), Allentown, PA 18109
Park in rear of building and enter at "Auditorium" entrance
Time: 3:30 PM - 6:00
Seating is limited to 35 people, first come first serve.
Cost: Registration is required, but there is no charge for the session. Materials and light meal will be provided.
Center for Humanistic Change is excited to host the 2019 SAP Consortium.. Dr. Jennifer Smith works in private practice with children, families, and adults to promote growth and healing at Brownback, Mason, and Associates. Having completed her Masters of Social Work at Syracuse University and her Ph.D. in Social Work at New York University, Jennifer is a Licensed Clinical Social Worker (LCSW) who is committed to staying informed of best practices along with new and innovative treatment options. As a university lecturer, Jennifer has taught multiple courses on clinical practice and social advocacy.
• ** Two and a half (2.5) Act 48 hours will be given to those from school districts that pre-approved this event. Pick up your certificate at the end of the event before leaving.**
The information you enter during the registration process will be used to contact you, should there be any changes to this event.