Educating the Whole Person -- Head, Heart, and Hands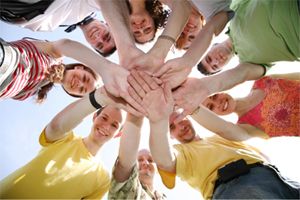 CHC is dedicated to the philosophy that people learn best by doing. We are grounded in the humanistic approach to education, which means we believe that learning is most effective when it engages the whole person--head, heart, and hands.
Our programs focus on helping people of all ages learn to make healthy decisions and increase their resiliency for managing change and life's challenges. Our educational philosophy has its roots in four major disciplines:
Drug & Alcohol Prevention Education
CHC's holistic, humanistic approach to education engages the whole person. We strive to help people develop their mental, emotional, and behavioral abilities to the fullest. CHC programs are dynamic--our participants learn through discussions, role-plays, art and writing projects, and other activities.
Humanistic education emphasizes the link between what is learned and how it applies to daily life. "Humanistic change" is the process of developing our personal assets and strengths, and using them to make conscious, responsible choices in our lives.
What is Humanistic Education?
Humanistic education guides students through a step-by-step process that builds knowledge and understanding of a topic by integrating it with what the student already knows and does. In this approach, a teacher is more of a facilitator than an authoritarian figure who imparts knowledge through lecturing.
The humanistic approach to education grew out of the theories of humanistic psychology developed by Maslow and others. They developed a client-centered (or student-centered)philosophy based on respect and empathy, with the goal of creating a climate that supports personal growth and healthy relationships. This belief is also a foundation both for CHC's approach to our programs, and the small group settings we use to present them.
CHC is an education agency, not a counseling or treatment service. As such, all our programs are presented to groups--classes of elementary,secondary, or college students, youth groups, adult groups or clubs, and at workplaces. All CHC staff and contractors are trained in facilitation skills based on learning theory and group dynamics.
CHC's approach to alcohol, tobacco and other drugs (ATOD) prevention education is grounded in these principles. Research in the 1990s showed that prevention education is most effective when it helps individuals explore their emotional and behavioral patterns, their decision-making skills and tendencies, their self esteem, their communication skills, and their relationships with family members and friends. This approach helps people, especially youth, develop the resiliency to make positive choices in the face of life's stresses and challenges, and not turn to substance abuse to cope with them.
The Developmental Asset Approach
Many factors influence why some young people have success in life and why others have a harder time. Economic circumstances, genetics, trauma, and many other factors play a role. But these factors, which can be difficult, or even impossible to change, aren't all that matters. Research by Search Institute has identified 40 concrete, positive experiences and qualities - "40 Developmental Assets" - that have a tremendous influence on young people's lives. The assets are grouped into eight categories:
Boundaries & Expectations
Support
Positive Values
Commitment to Learning
Social Competencies
Empowerment
Positive Identity
Constructive Use of Time
Half of the 40 Developmental Assets are external--safe and supportive family, school, and neighborhood environments, defined roles and boundaries for young people, good adult role models, and the like. The other half are internal. That is, qualities like empathy, commitment, integrity, responsibility, and self control.
Each of CHC's programs for children and youth, whether of our own design, or developed by other experts, is focused on guiding students to build their personal, internal assets. Whether a program is focused on a single topic or skill, such as tobacco prevention or conflict resolution, or if it takes a broader approach, such as character education, the goal is to develop the students' resilience in the face of challenges, and their abilities to make positive, peaceful choices about how they live their lives.
Developmental assets protect and empower youth. Best of all, their effect is cumulative. That means the more assets a student has, the more likely they are to succeed in life.