CANCELLED-Northampton County After School SAP Consortium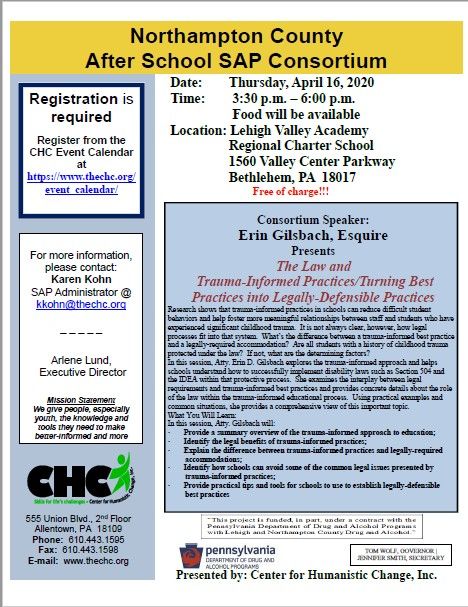 The Law and Trauma-Informed Practices- an event for SAP professionals
When: Thursday April 16,2020
Where: Lehigh Valley Academy Regional Charter School
1560 Valley Center Parkway, Bethlehem, PA 18017
Time: 3:30 PM - 6:00
Seating is limited to 35 people, first come first serve.
Cost: Registration is required, but there is no charge for the session. Materials and light meal will be provided.
Center for Humanistic Change is excited to host the 2020 SAP Consortium. Erin Gilsbach, Esquire is the Executive Director and Founder of EdLaw Interactive. She has vast experience in the field of education, from teaching public high school, then serving in the legal office of the PA Department of Education and later, representing public, private and charter school clients for over a decade.
• ** Two and a half (2.5) Act 48 hours will be given to those from school districts that pre-approved this event. Pick up your certificate at the end of the event before leaving.**
The information you enter during the registration process will be used to contact you, should there be any changes to this event.