HOPE: Heroin and Opioid Prevention Education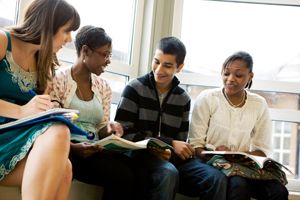 ---
H.O.P.E. was developed in response to the growing concern around the heroin and opioid epidemic in Lehigh County and throughout the state of Pennsylvania. By participating in the program, teaching professionals, administrators, and students will be able to identify:
What is Heroin? What are Opioids?
Signs and Symptoms of Someone Using
Effects of Use - on Health, Relationships, and Life
Local Resources
Where to Go for Help
To find out when the next scheduled H.O.P.E. presentation will be open to the general public, please visit our Event Calendar.  To schedule H.O.P.E. for your school or community group, please contact CHC.
---
** Special Thank You to Barlieb Wallace Productions, LTD **
---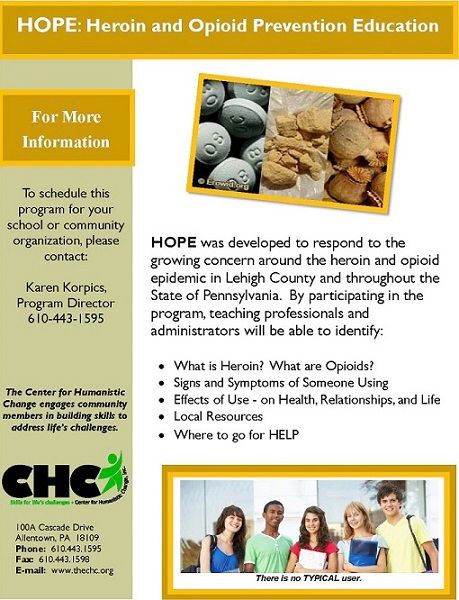 To access a downloadable HOPE flyer, click here.
---
To find out more about the drug prevention billboards, which the Kemps Foundation generously funded click here.  Be on the lookout - there are 2 of them in the Lehigh Valley!
---
References and Resources
Get Naloxone Now - recommended training
http://www.getnaloxonenow.org/
Video. An investigation places America's heroin crisis in a fresh and provocative light -- telling the stories of individual addicts, examining shifts in U.S. drug policy, and exploring what happens when addiction is treated like a public health issue, not a crime.
http://www.pbs.org/wgbh/frontline/film/chasing-heroin/
National Institute on Drug Abuse, Drug Facts: Heroin, April 2013
http://www.drugabuse.gov/publications/drugfacts/heroin
National Institute on Drug Abuse, America's Addiction to Opioids: Heroin and Prescription Drug Abuse, 14 May 2014
http://www.drugabuse.gov/about-nida/legislative-activities/testimony-to-congress/2014/americas-addiction-to-opioids-heroin-prescription-drug-abuse
Heroin: Combating this Growing Epidemic in Pennsylvania, The Center for Rural Pennsylvania, September 2014
http://www.rural.palegislature.us/documents/reports/heroin_report2014.pdf
Heroin – A Deadly Drug, Channing Bete Company, Inc., 2014
Prescription Drugs Have Pushed Heroin into the Suburbs, Newsweek, 29 May 2014
www.newsweek.com/prescription-drugs-have-pushed-heroin-suburbs-252625
New Hope Recovery Center, 54 Heroin Abuse or Addiction Warning Signs
www.new-hope-recovery.com/center/2013/08/08/heroin-abuse-warning-signs/